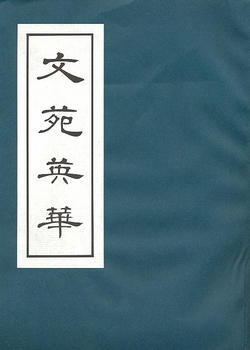 Compiled by Li Fang et al.
The Chinese University of Hong Kong, 1974
University Library Series No.2
Description:
The Wen Yuan Ying Hua (Finest Blossoms in the Garden of Literature) is an anthology of poetry, odes, songs, and writings from the Liang dynasty to the Five Dynasties era. The book was compiled by Li Fang (925 – 996) under an imperial order during the Song dynasty. This publication is a photocopy of the Song woodblock printed edition collected by Mr. Wong Nan-ping of the Min Chiu Society.
Library call number: PL2450 .W42