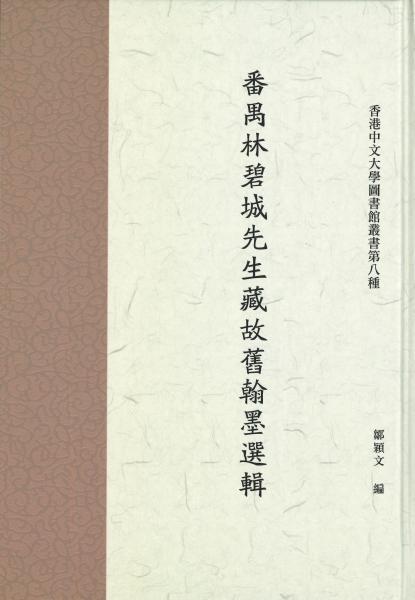 Edited by Chau Y. W.
The Chinese University of Hong Kong Library, 2018
University Library Series No.8​
Description:
This book is published as volume VIII of The Chinese University of Hong Kong's University Library Series that carries a Lingnan focus. It compiles, transcribes and annotates over 300 pages of poetry and calligraphy which Lin Ruheng and his twenty-three friends exchanged. The authors were famous literati residing in Hong Kong in the 1950s, including Republican Era diplomat Liao Entao (1864-1954), renowned ci-poetry poet Liu Jingtang (1887-1963) and the "Modern Five Scholars of Nanyuan" Xiong Runtong (1902-1974) and Zeng Xiying (1903-1985). The manuscripts collected are mostly poetry and correspondence relating to the famous ci-poetry organization the "Jian Society" active from 1950 to 1954 in Hong Kong. This collection not only preserves the legacy of literati of the last century, but also provides first-hand information on the development of ci-poetry in Hong Kong. Lin Ruheng (1907-1959), also known as Lin Bicheng, was a native of Pan Yu in Guangdong province. In the early 1940s, he served as the head of the Department of Education in Guangdong and as principal of Guangdong University. Lin came to Hong Kong in 1948. His writings were compiled posthumously into Bicheng Yuefu (Collected Yuefu Poetry of Lin Bicheng).
Library call number: NK3634.A2 P295 2018