With the continuous development of the Internet to meet the growth of smart cities and the coming 4th industrial revolution, cloud computing, machine learning, big data, and IoT (Internet of Things) are increasingly being integrated into the fabric of our digital lifestyle.
As smart, connected, and data driven products, services, and systems become more prevalent in this coming decade, media and business professionals will be challenged to collect and codify data for further processing, visualization, and on-demand story telling. This bootcamp aims to equip students from higher education institutions in Hong Kong with the essential skills required to function well in the data era.
Attendees will learn from experts and mentors and join with other students to collaborate in team presentation of stories based on datasets provided by the organizers. Awards will be given to outstanding presenters.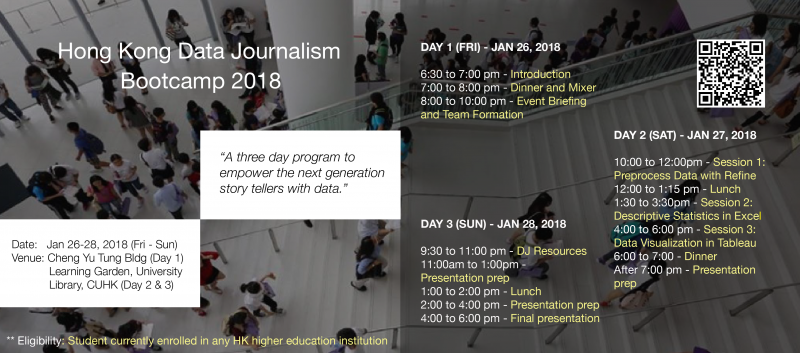 Date: 26-28 January 2018 (Friday- Sunday)
Time: Jan 26 6:30-10pm / Jan 27 10am-10pm / Jan 28 9:30-6pm
Venue: Jan 26 LT7, 3/F, Cheng Yu Tung Building, CUHK, Shatin / Jan 27-28 Learning Garden, LG/F, University Library, CUHK, Shatin
Deposit: HK$ 200 (refundable if attend 3 days)
Registration: click here to register
Event Details: https://entrepreneurship.bschool.cuhk.edu.hk/bootcamp/index.html
*Eligibility: All students currently enrolled in diploma, associate, bachelors, masters and doctoral degree programs offered by any higher education institution in Hong Kong are eligible to register for the event
*Due to limited seating (60 in total), please submit the cheque by post by Jan 18, 2018 (Thu) & confirmation email will be sent on the week of Jan 22, 2018.*
~ Address: Center for Entrepreneurship, Room 601, 6/F, Cheng Yu Tung Building, CUHK, Shatin ~
Enquiry : CUHK Center for Entrepreneurship Ms. Rosanna Lo (rosannalo@cuhk.edu.hk / 39439522 ) or Miss Gloria Cheung (glocheung@cuhk.edu.hk / 39439568)
Co-Organizers: CUHK Center for Entrepreneurship, CUHK School of Journalism and Communication, HKBU Department of Journalism, CUHK Library