Artists: Bobo Li
Date: 7 May – 18 May 2018
Venue: New Asia College Ch'ien Mu Library
Artist Statement:
Bobo is an amateur urban sketcher, born and educated in Hong Kong. She is now studying Master of Art in Fine Arts at CUHK. Her passion of art since childhood, having an opportunity to learn Chinese painting. She expresses herself in life drawing every day with different forms of medium like ink, pastel and painting apps, etc.
Bobo believes that art shouldn't be something out of reach and should be integrated with life. Working as a HR specialist in staff training and development over 10 years, she tries to bring elements of art at workplace. Since 2016, She started her voluntary work assisting in the painting lessons for dementia patients during leisure. Bobo hopes that she can continue to immerse herself in the world of art and share joy and happiness with others through drawing and snapshots.
Her recent works named "Shoes' Talk" (2016) and "Unfold the Expired Knowledge" (2017). Being a story teller to show her concern with the Hong Kong City and people living in.
Exhibition Statement:
Drawing every day becomes Bobo's habit. Sketching through her own brush strokes makes her feel relax and think about life. It is even more than a thousand words. Bobo had visited an exhibition named "Dream Chaser: Early Paintings of Professor Wucius Wong" two years ago. Professor Wong's Exhibition inspired her a lot. His early works include plein air paintings in water-color and felt-pen, cartoonish drawings, checkerboard-like landscape, Klee-esque line-drawings, impressionistic harbor scenes painted with palette knives, journalistic portraits of daily life, etc. These are not solely personal expressions, but also reflections of a thoughtful artist who made sensitive observations of his surroundings. As a greenhorn studying Fine Arts in the Chinese University of Hong Kong, Bobo sketches every day to record all the things around her. This is Bobo's first solo exhibition. Each drawing is a page of her diary. She found that being a dream chaser on paper is the best way to encapsulate her aspiration for arts.
Poster: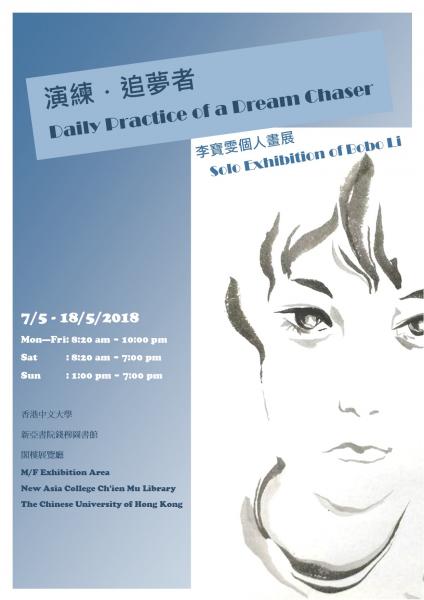 Exhibits: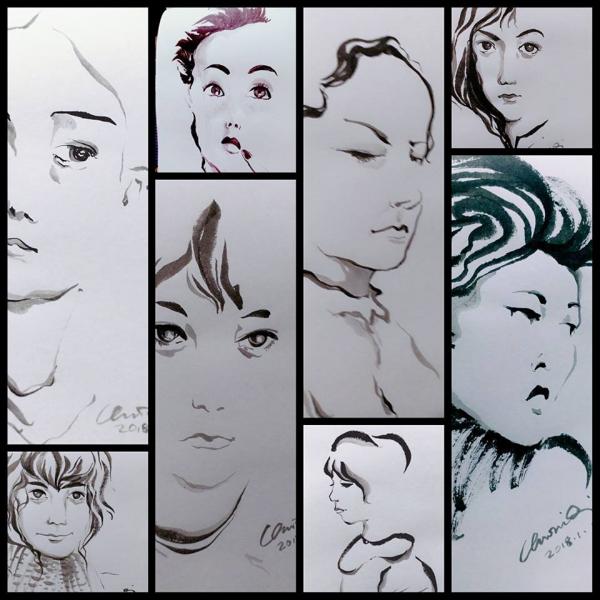 More exhibition photos are available in New Asia College Library Exhibitions LibGuide.