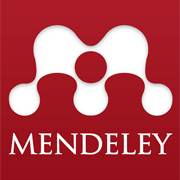 Feature highlights:
Quickly search and select your preferred citation style from a rapidly growing community-managed databases, or create new styles with the new CSL Editor.
Create bibliographies instantly, flexibly format your citations and bibliography according to your chosen style.
Collaborate on bibliographies, share bibliographies with your colleagues through a private group. Any member can add or edit any cited references.
Free download:
Mendeley is a free citation management too. Please download the desktop version from here
Online tutorial:
Self-guided instruction in the form of tutorials, FAQ, and webinars are available through Mendeley