Thank you for your participation
As part of our continuous effort to improve library services, the Chinese University of Hong Kong Library conducted a survey from March 11-29, 2019. The Library would like to thank all participants who took their time to complete the survey. As a token of thanks, a Microsoft Surface GO, an Apple iPad and 10 book coupon prizes were given out as incentives in a lucky draw. Prizes were presented by the University Librarian on April 24, 2019 at the University Library.
Congratulations to all prize draw winners!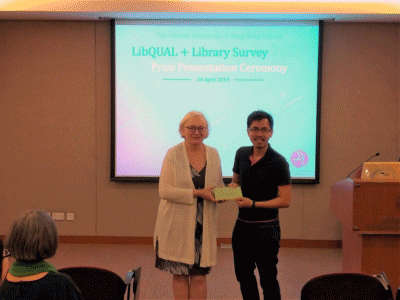 The University Librarian, Ms. Louise Jones, presented prizes to the prize draw winners.