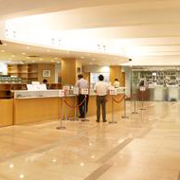 Project Overview
Chung Chi College Elisabeth Luce Moore Library (CCL) is one of the busiest libraries on campus. Its convenient location close to the MTR and on the lower campus means that it has just over half a million visits per year. This figure is very stable, not showing a decline despite the opening of the WMY Learning Commons and the Pommerenke Student Centre nearby in 2011.
The 2014 Library survey highlight a level of dissatisfaction with current facilities at CCL. Specifically there was a demand for additional study space, computers and printing facilities. Given this challenging situation, the Library is refurbishing CCL to provide a new learning cluster with more study space on the ground floor, more shelving space for collection growth and a new RFID self-issue and return service. The refurbishment projects will start in summer, 2016.
The existing CCL collections focus on music, religion, education, sports science, performing arts and theatre. All subject areas where print collection growth is still strong.
1. Refurbishment Project
The refurbishment project will be taken place starting from the summer 2016. Our plan is to increase study and workstation space on the ground floor after implementing the RFID self-service by:
Converting the existing G/F staff office & counter area to users' study space.
Providing a help desk on G/F.
Relocating the staff office from G/F to 2/F, utilizing the existing closed stack space, materials of which will be relocated to our Special Collections in University Library.
By removing the counter and reconceptualising the help desk area there will be better support for users through a roving service which has been successfully implemented in the University Library and New Asia Ch'ien Mu Library.
A more spacious learning cluster with additional seats will be provided on the ground floor. Compact shelves will be installed on the first and second floor so that additional shelving space will be created for the existing collections and its future expansion.
2. Relocation of Japanese literature and language Collection in summer 2016
To allow space for future collection growth, the Japanese literature and language collection has been relocated to the New Asia College Ch'ien Mu Library (NAL) on the upper-campus in May 2016.
3. Relocation of UCL's Audio-Visual Collection to CCL
To facilitate users' easy access to both print and audio visual materials in one library, the Music AV collection from the United College Wu Chung Multimedia Library is planned to be relocated to CCL by stages. Phonodisc and compact disc (CD) collection already relocated in September 2015 and May 2016 respectively.
4. Using CCL during the renovation period
During the renovation period in summer 2016, part of the ground floor of CCL will be closed for building work. The existing circulation counter will continue to serve our users.
5. Progress Update
For updates on the refurbishment project and the collection relocation, please visit our web page or see our CCL Blog and follow us on twitter.
Contact Us
Tel: (852) 3943 6969
e-mail: ccl@lib.cuhk.edu.hk