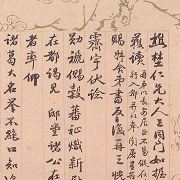 A list of manuscripts, chiefly by literary authors, extracted from the archival collections:
Consists of donated materials chiefly prepared and collected by David Hawkes on Chinese literature and the study of religion. Also covers biographical materials on David Hawkes.
Consists of works of George Walter Robinson, including articles and translation of literature, etc.
Maurice and Judith Freeman papers
Chiefly consists of book reviews written by Maurice Freedman, proof copies of book reviews and journal articles of Judith Freedman (as an editor of The Jewish Journal of Sociology), also includes a few letters and reports.
蔡炎培書信文件 (Chinese only; In Process)
包括蔡炎培的手稿、剪報和獎座等資料。
柴娃娃書信文件 (Chinese only)
包括柴娃娃的手稿、信函、照片等資料。
陳秉昌書信文件 (Chinese only)
主要是陳秉昌的手稿、信函、印章和卷軸書畫等資料。
戴天書信文件 (Chinese only)
包括戴天的手稿、信函、照片和剪報等資料。
東瑞手稿 (Chinese only)
包括東瑞的手稿。
方寬烈書信文件 (Chinese only)
主要是方寬烈的手稿,還有他收集的照片和刊物等資料。
甘德謙手稿 (Chinese only; In Process)
包含甘德謙作品的手稿。
古劍書信文件 (Chinese only; In Process)
包含古劍收集的他人手稿。
古兆申書信文件 (Chinese only)
包含古兆申從事文藝創作和評論、文學翻譯、期刊編輯和崑劇推廣等工作所撰寫及收集的資料。主要是手稿、剪報資料、信函、照片、漫畫和獎座等。
韓中旋書信文件 (Chinese only; In Process)
包括韓中旋的手稿和照片等資料。
何紫書信文件 (Chinese only)
包括何紫的手稿和信函,還有紀念奬座、書畫、名片、照片及明信片等。
胡春冰書信文件 (Chinese only)
主要是胡春冰的手稿、日記和照片,還有他收集的剪報、紙型和簽名布等資料。
胡菊人手稿 (Chinese only)
包括胡菊人於各報刊專欄的文章手稿。
淮遠手稿 (Chinese only)
包括淮遠《跳虱》、《獨行莫戴帽》、《黑太陽你別高興》内作品的手稿,與及未刊稿〈小買賣〉。
金依書信文件 (Chinese only)
包括金依的手稿、信函及剪報等資料。
黎鍵書信文件 (Chinese only)
包含黎鍵從事音樂評論、粵劇推廣、語文教育和校友會等活動所撰寫和收集的資料。主要是報刊文章、信函、未出版書稿等手稿和視聽資料。
李君毅書信文件 (Chinese only)
包括李君毅的手稿和信函、山海之友旅行隊資料、台灣旅遊資料、照片、剪報等。
李洛霞手稿 (Chinese only)
包括李洛霞於《星島日報》專欄的文章手稿。
李彥和手稿 (Chinese only)
包括李彥和的手稿、獎狀、參考資料等。
李援華書信文件 (Chinese only)
包含李援華的手稿(如戲劇理論、教學筆記、評論和劇本等)、信函、照片和剪報等資料。
李遠榮書信文件 (Chinese only)
主要是李遠榮的手稿、信函等。
梁耀明書信文件 (Chinese only; In Process)
主要是梁耀明的旅遊日記、照片和信函,還有他收集的詩詞手稿和剪報等資料。
盧昭靈書信文件 (Chinese only)
包含盧昭靈於加拿大從事文學創作、批評和時事評論的手稿和往來信函。
劉惠瓊書信文件 (Chinese only)
包括劉惠瓊的手稿和打字稿,還有《華僑日報・兒童週刊》的剪報。
劉以鬯書信文件 (Chinese only)
主要是劉以鬯的手稿和信函,還有他收集的照片、郵票、剪報和獎座等資料。
侶倫書信文件 (Chinese only)
包括侶倫的手稿、照片及剪報資料。
羅孚書信文件 (Chinese only)
包括羅孚的手稿,亦有羅孚收藏包天笑的作品手稿。
羅琅書信文件 (Chinese only)
包含羅琅發表及收集的文章、往來信函和稿費通知單。
馬鑑書信文件 (Chinese only)
主要是馬鑑的手稿和信函,亦有馬鑑收集親友的手稿、信函和照片,還有拓片、卷軸書畫和剪報等資料。
馬覺書信文件 (Chinese only; In Process)
主要是馬覺的手稿和剪報資料。
馬博良書信文件 (Chinese only)
包括馬博良的手稿、剪報等。
邁克手稿 (Chinese only)
包括邁克《互吹不如單打》一書各文章的手稿及專欄剪報。
潘新安書信文件 (Chinese only; In Process)
包含潘新安及其友儕的詩詞手卷、詩詞冊頁、信札和照片等。
潘小磐書信文件 (Chinese only; In Process)
包括潘小磐的手稿和信函,還有他收集的剪報和他人的手稿等資料。
錢穆手稿 (Chinese only)
包括錢穆出版著作的手稿。
佘雪曼書信文件 (Chinese only)
主要是佘雪曼的信函、手稿、卷軸書畫、剪報、聘書等資料。
石人手稿 (Chinese only; In Process)
主要是石人《借情樓詩集》和《香港老照片3》的手稿,以及為報章撰寫專欄文章的手稿。
舒巷城書信文件 (Chinese only)
主要是舒巷城撰寫的詩、詞手稿和信函。
溫健騮書信文件 (Chinese only)
包括溫健騮的手稿、剪報和編輯《溫健騮卷》的資料等。
吳培榮手稿 (Chinese only; In Process)
包含吳培榮編輯《香港飛躍七十年:華僑 日報歷史見證》一書的手稿、改稿和影印本等資料。
西西書信文件 (Chinese only)
主要是西西的手稿、信函、獎座和手工藝等資料。
香山亞黃漫畫、手稿及其他資料 (Chinese only)
主要是香山亞黃於報社專欄投稿的散文、短文和漫畫稿等。
蕭軍書信文件 (Chinese only)
包含蕭軍手稿《江城詩話》及蕭紅書信兩封。
辛其氏書信文件 (Chinese only)
包括辛其氏〈我們到維園去〉手稿和思果的書法。
薛興國書信文件 (Chinese only)
包含薛興國於香港、北京和北美報刊發表的專欄文章手稿和書信等。
楊舜文手稿 (Chinese only; In Process)
包含楊舜文撰寫和收集的詩詞手稿、詩軸和閱讀筆記等資料。
葉靈鳳書信文件 (Chinese only)
主要是葉靈鳳的手稿、日記和照片等資料。
尹懷文書信文件 (Chinese only)
包括尹懷文在香港各報刊投稿的文章手稿、剪報資料;亦有照片、信函、素描、畫、藏書票和紀念封。
余光中書信文件 (Chinese only)
主要是余光中的手稿、批改學生的讀書報告、評審「華文獎」散文組的參賽作品和紀念獎座等。
曾希穎手稿 (Chinese only)
包含曾希穎的手稿。
張灼祥書信文件 (Chinese only)
包含張灼祥撰寫報章專欄的手稿及剪報資料。
周懷璋書信文件 (Chinese only)
包括周懷璋的手稿、信函和照片等資料,還有璞社的《抱璞齋吟侶詩存》。