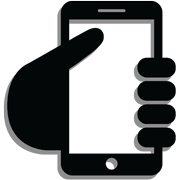 Library's subscribed e-resources can be accessed remotely by CUHK current students, faculty and staff, alumni and retired members. Due to license agreement restrictions, only a selected list of e-resources is available to alumni and retired members.
1. Easy Access to E-resources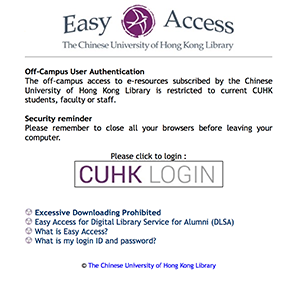 To find out more about your login ID and password, please click here.
2. Access to E-resources via VPN
Set Up and Run a VPN Connection to access the campus network using your Computing ID and CWEM password.
3. Access to E-resources via Bookmarklet
A bookmarklet is a browser bookmark that allows, directly from a publisher's or vendor's website, for you to be prompted to login via the Easy Access Login screen and access the full text documents. Please visit this guide for installation steps.

4. E-resources supporting institutional login
Among Library subscribed e-resources, some Elsevier's products such as ScienceDirect, ClinicalKey, Scopus and Mendeley support institutional login. Generally, you can click "Sign in", select "The Chinese University of Hong Kong" in the list of "other institutions" and login using your CUHK Login account. Easy Access and VPN are not required for institutional login. Please visit this guide for detailed instructions.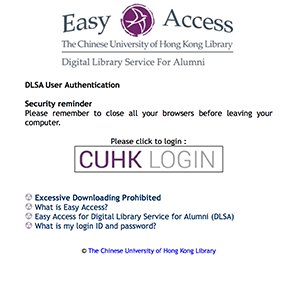 To find out more about your login ID and password, please click here.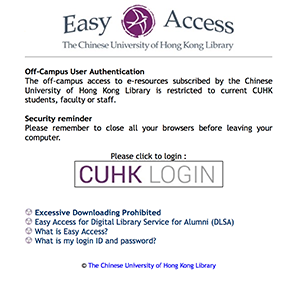 To find out more about your login ID and password, please click here.
Patrons of the Shenzhen Research Institute (SZRI)
Database Service
Terms and Conditions
Patrons may download or print a single copy of citation, abstracts, full text or portions that does not contain a significant segment of a database on a reasonable basis, thereof provided that information is used solely for personal, non-commercial use and may not be sold. Massive downloading in any kind is strictly prohibited. Patrons may not share their login with others and use the information in any manner that will infringe the copyright. Patrons who violate these terms and conditions will have their privileges permanently cancelled; serious infringement could lead to civil action or even criminal prosecution.
All other registered users have 'walk-in' access as licences allow in CUHK Library premises.
CUHK Library Digital Initiative
Q: Do I need to apply an account for Easy Access?
A: No application is required for current CUHK staff and students ; Alumni and retired members are required to apply for Digital Library Service for Alumni and Digital Library Service for CUHK Retirees respectively.
Q: What should I set up or install for Easy Access?
A: No, you have nothing to set up or install on your PC.
Q: Will I be prompted for login if I am using campus network or using the PCs inside the University Library?
A: Except special cases, if you are on CUHK campus and click on the Easy Access URL, you will be directed to the requested e-resource directly.
Q: Can I use Easy Access for all e-resources?
A: No. Easy Access is for web-based e-resources only. It does not support free online resources and Library developed databases.
Q: Why my session was locked?
A: Currently each user can open up to 2 simultaneous sessions for each account. When this limit is reached, one of the previous sessions will be automatically locked.
Q: What is "cookie"?
A: Licence agreements of e-resources require that access be extended only to authorized users. Once you have been validated by this system, a "cookie" is sent to your browser as an ongoing indication of your authorization to access these databases. It will only need to be set once during login. If you are using a personal firewall, you may need to change its configuration to allow the required cookie to be set. As you access these resources, they may also use cookies. Your ability to use those databases may depend on whether or not the browser you re using allows those cookies to be set.
Q: How to exit Easy Access?
A: Close all your Internet browser windows and you will be automatically logged off or else other people can use your session.