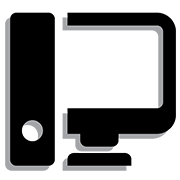 The Library provides about 400 networked PCs, notebooks and a few iMacs distributed across all its 7 libraries for accessing library services, collections, and library-subscribed electronic resources; and navigating the Internet, along with various application software including Microsoft Office suite and graphic software.
Please refer to the Library Homepage for their availability.
University Library and some branch libraries have designated some computers to access specialized databases only.
Your login ID and password are needed to login library's PCs. Most of these PCs and iMacs are connected to multi-function photocopiers (MFP) for printing.
Each library also has at least one PC designated for visitors that does not require login. They are also connected to multi-function photocopiers (MFP) for printing.
Guidelines for Computer Use
All data files saved to the Library computers will be irrecoverably erased once the computer is shutdown or restarted. You are strongly encouraged to save and/or backup your data to your personal storage as frequently as required.
If you plan to use an external storage device (e.g. USB drive) with the Library computers, please test to make sure it is working correctly before starting your work. Some external devices may conflict with the computer causing it to involuntarily restart and losing all data.
CUHK Library assumes no responsibility for any data loss that may result from the use of Library computers.
You are also reminded to shutdown or restart the computer after use to ensure security and privacy of your personal data.
Location of Visitor PCs