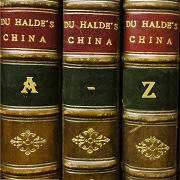 The following special and archival collections are listed in alphabetical order.
Contains more than 180 titles in 200 volumes of rare and semi-rare books related to Architecture, among which over 150 titles are Western titles published before 1900.
Archive of Christian Study Centre on Chinese Religion and Culture
Contains all the documents and files donated by the Christian Study Centre on Chinese religion and culture.
Donated by the Bei Shan Tang Foundation in 2008, this collection consists of 1,383 titles of Chinese ancient books in 9,886 volumes, among them, 52 titles are rare books (i.e. printed before 1796). This is the largest donation of Chinese ancient books received by the Library in the past five decades.
Bonnie S. McDougall collection on Bei Dao
Consists chiefly of materials assembled or written by Bonnie S. McDougall in the course of translating and publishing works by Bei Dao and other contemporary Chinese writers.
Chinese Medicine Texts Collection
A collection of 2,485 volumes on ancient Chinese Medicine, including 61 titles (182 volumes) of rare books published around the age of the Ming and early Qing Dynasty and 330 titles (1,049 volumes) from the mid-Qing Dynasty to Minguo.
A collection of books and journals on various subject areas regarding the research of Chinese overseas.
Chinese Women and Hong Kong Christianity: An Oral History Archive
An oral history project of 22 Chinese Christian women of age above 65.
A collection of master's theses and doctoral dissertations by the graduate students of The Chinese University of Hong Kong.
Cultural Revolution Collection
A collection contains various materials related to and are published in the period of Cultural Revolution (1966-1976).
A collection of of more than twenty Daoist texts of the Qing Dynasty.
Consists of donated materials chiefly prepared and collected by David Hawkes on Chinese literature and the study of religion. Also covers biographical materials on David Hawkes.
A collection of various materials on and by Gao Xingjian, 2000 Nobel Prize laureate in Literature.
Consists of works of George Walter Robinson, including articles and translation of literature, etc.
Hong Kong Cable Television newspaper clippings
Consists of newspaper clippings collected by Hong Kong Cable Television to support their reporters, editors, and photographers conducting news research and programming.
Hong Kong Christian Industrial Committee (HKCIC) records
Consists of records created by HKCIC in its daily operation, industrial mission in Hong Kong and participation in social activities in Hong Kong and Mainland China.
Hong Kong Government Documents
A collection of publications issued by various departments and committees of the Hong Kong SAR Government.
A collection contains materials covering a wide range of areas and topics related to Hong Kong.
Hong Kong Literature Collection
A collection of books and journals as well as other materials on Hong Kong Literature.
An online database on Hong Kong visual arts and artists materials for teaching and research purposes.
Consists of three letters written by James Cantlie and received by Sir Heary Trueman Wood.
Consists chiefly of correspondence written or received by Ma Meng during his employment at the University of Hong Kong. Also includes some teaching materials on Chinese Studies and Chinese language. Other material types include photographs, certificates, scrolls and drawings, clippings, objects, etc.
Maurice and Judith Freeman papers
Chiefly consists of book reviews written by Maurice Freedman, proof copies of book reviews and journal articles of Judith Freedman (as an editor of The Jewish Journal of Sociology), also includes a few letters and reports.
A collection of books and journals published in China between 1912 and 1949 (Minguo / Republican Period). All subjects are covered.
Modern Chinese Drama Collection
The collection consists of some first and out-of-print editions of modern Chinese plays and valuable translated works. Most of them were published in the 1930s and 1940s.
A collection of selected print materials published in the first 17 years of new China from 1949-1966.
This collection consists of two parts. The Chinese rare book collection contains around 1100 titles of stitch-bound book printed between the Yuan dynasty (1260-1368) to the end of the reign of Qianlong (1795) of the Qing dynasty (1644-1911). Western rare book collection contains mainly western language books published before 1900.
"Remembering 1967 : The Life Experiences of 'Patriotic Youths' in Colonial Hong Kong" Oral History Project
This oral history project was conducted by the Centre for Chinese History of The Chinese University of Hong Kong and commissioned by the 67 Synergy Group. The project contains memories of 30 arrested 'patriotic youths' involved in the 1967 riots, providing oral history records on the political upheaval. The collection includes sound files, transcripts and synopses.
Consists of Ronald Owen Hall's correspondence with Victoria Diocesan Association, letters to his relatives and family members, newspaper clippings, note books and related materials.
A collection contains manuscripts, correspondence, photos, teaching materials, note and audio-visual materials, etc. donated by Professor Rulan Chao Pian (1922-2013).
A collection of 56 pieces of rare oracle bones donated to the United College and are now kept at the University Library. The largest collection of its kind in Hong Kong.
鮑漢琳戲劇資料 (Chinese only)
包括鮑漢琳編寫或收集的劇本手稿,另有場刊、宣傳單張及其他資料。
鮑耀明書信文件 (Chinese only; In Process)
包含鮑耀明收集關於周作人、周豐一和陶虞孫等人的資料。
蔡炎培書信文件 (Chinese only; In Process)
包括蔡炎培的手稿、剪報和獎座等資料。
柴娃娃書信文件 (Chinese only)
包括柴娃娃的手稿、信函、照片等資料。
陳秉昌書信文件 (Chinese only)
主要是陳秉昌的手稿、信函、印章和卷軸書畫等資料。
陳荊鴻立軸和照片 (Chinese only; In Process)
包含陳荊鴻的書法立軸和他參與文化活動的照片。
陳君葆書信文件 (Chinese only; In Process)
主要是陳君葆收集的信函影印本,還有文章手稿和剪報等資料。
陳秋英剪紙及剪報資料 (Chinese only; In Process)
包含陳秋英的剪紙、證書和剪報資料等。
陳天機書信文件 (Chinese only; In Process)
主要是陳天機收集的書畫卷軸。
陳耀南錄音帶及信函 (Chinese only; In Process)
包含陳耀南談中國文學和文化的錄音帶及信函。
陳湛銓錄音帶及錄音光碟 (Chinese only; In Process)
主要是陳湛銓談中國文學和文化的錄音帶及錄音光碟。
戴天書信文件 (Chinese only)
包括戴天的手稿、信函、照片和剪報等資料。
鄧偉賢書信文件 (Chinese only; In Process)
包含鄧偉賢的書法、信函和畫作。
東初書信文件 (Chinese only; In Process)
主要是東初與樂團演出和在各地遊歷的照片,還有他收集的樂譜、書信和幻燈片等資料。
東瑞手稿 (Chinese only)
包括東瑞的手稿。
杜漸書信文件 (Chinese only; In Process)
包含杜漸撰寫和收集的信函、手稿、照片、商業文件和剪報等資料。
方寬烈書信文件 (Chinese only)
主要是方寬烈的手稿,還有他收集的照片和刊物等資料。
甘德謙手稿 (Chinese only; In Process)
包含甘德謙作品的手稿。
古巴華人檔案:雷炳勳書信文件 (Chinese only)
主要是雷炳勳在古巴工作期間,寫給香港的家人和親友之信函。
古劍書信文件 (Chinese only; In Process)
包含古劍收集的他人手稿。
古兆申書信文件 (Chinese only)
包含古兆申從事文藝創作和評論、文學翻譯、期刊編輯和崑劇推廣等工作所撰寫及收集的資料。主要是手稿、剪報資料、信函、照片、漫畫和獎座等。
關懷書信文件 (Chinese only; In Process)
包含關懷撰寫和收集的手稿、照片和剪報等資料。
韓中旋書信文件 (Chinese only; In Process)
包括韓中旋的手稿和照片等資料。
何慧姚剪報資料 (Chinese only; In Process)
包含何慧姚收集的香港報章(如《華僑日報》、《大公報》、《文匯報》和《星島日報》等)剪報資料複印本。
何健全剪報資料 (Chinese only; In Process)
包含何健全收集的剪報資料,主要是董培新的漫畫和插圖,亦有王司馬、凌翰和香山亞黃的漫畫,以及李翰祥、黃霑和楊志強的專欄等資料。
何弢書信文件 (Chinese only; In Process)
包括何弢收集的幻燈片、文件和照片等資料。
何紫書信文件 (Chinese only)
包括何紫的手稿和信函,還有紀念奬座、書畫、名片、照片及明信片等。
胡春冰書信文件 (Chinese only)
主要是胡春冰的手稿、日記和照片,還有他收集的剪報、紙型和簽名布等資料。
胡菊人手稿 (Chinese only)
包括胡菊人於各報刊專欄的文章手稿。
淮遠手稿 (Chinese only)
包括淮遠《跳虱》、《獨行莫戴帽》、《黑太陽你別高興》内作品的手稿,與及未刊稿〈小買賣〉。
黃漢勛書信文件 (Chinese only)
包括黃漢勛的手稿和聘函,還有剪報冊、照片和兵器等資料。
黃宏發書信文件 (Chinese only; In Process)
主要是黃宏發的選舉資料。
黃奇智書信文件 (Chinese only; In Process)
主要是黃奇智的畫作,亦包含他的照片、筆記、剪報和投影片等資料。
黃少山書信文件 (Chinese only)
包括黃少山收集的照片、他人手稿、信函和校簿等資料。
江之南書信文件 (Chinese only; In Process)
包含江之南(王陵)的手稿、剪報、錄音帶和信函等資料。
靳杰強書畫 (Chinese only; In Process)
包含靳杰強的書法和畫作。
金依書信文件 (Chinese only)
包括金依的手稿、信函及剪報等資料。
鄺美顏書信文件 (Chinese only; In Process)
主要是鄺美顏的書法和畫作,還有鄺達明的照片等資料。
黎鍵書信文件 (Chinese only)
包含黎鍵從事音樂評論、粵劇推廣、語文教育和校友會等活動所撰寫和收集的資料。
李伯鳴書信文件 (Chinese only; In Process)
包含李伯鳴收集的信函、文件和剪報等資料。
李鴻烈照片和學生證 (Chinese only; In Process)
包含李鴻烈與友儕聚會的照片,亦有他入讀香港聯合書院的學生證。
李君毅書信文件 (Chinese only)
包括李君毅的手稿和信函、山海之友旅行隊資料、台灣旅遊資料、照片、剪報等。
李洛霞手稿 (Chinese only)
包括李洛霞於《星島日報》專欄的文章手稿。
李寧漢書信文件 (Chinese only; In Process)
包含李寧漢的手稿,還有他收集的文件和小冊子等資料。
李彥和手稿 (Chinese only)
包括李彥和的手稿、獎狀、參考資料等。
李燄生書信文件 (Chinese only; In Process)
包含李燄生(馬兒)的手稿和剪報等資料。
李援華書信文件 (Chinese only)
包含李援華的手稿(如戲劇理論、教學筆記、評論和劇本等)、信函、照片和剪報等資料。
李遠榮書信文件 (Chinese only)
主要是李遠榮的手稿、信函等。
李止宜書信文件 (Chinese only; In Process)
包含李止宜的手稿、日記、照片及剪報等資料。
梁耀明書信文件 (Chinese only; In Process)
主要是梁耀明的旅遊日記、照片和信函,還有他收集的詩詞手稿和剪報等資料。
林汝珩書信文件 (Chinese only; In Process)
包含林汝珩(林碧城)撰寫的手稿,亦有「堅社」成員及友儕的手稿和信函。
劉惠瓊書信文件 (Chinese only)
包括劉惠瓊的手稿和打字稿,還有《華僑日報・兒童週刊》的剪報。
劉以鬯書信文件 (Chinese only)
主要是劉以鬯的手稿和信函,還有他收集的照片、郵票、剪報和獎座等資料。
龍文書店書信文件 (Chinese only; In Process)
主要是龍文公司的資料,亦有私人信件。
陸回剪報資料 (Chinese only; In Process)
包含陸回收集的剪報資料。
侶倫書信文件 (Chinese only)
包括侶倫的手稿、照片及剪報資料。
盧瑋鑾書信文件 (Chinese only; In Process)
包含盧瑋鑾收集的信函、作家手稿和剪報等資料。
盧秀東書信文件 (Chinese only)
包含盧秀東的詩集、筆記和所收集的粵曲曲譜及剪報資料等。
盧昭靈書信文件 (Chinese only)
包含盧昭靈於加拿大從事文學創作、批評和時事評論的手稿和往來信函。
羅孚書信文件 (Chinese only)
包括羅孚的手稿,亦有羅孚收藏包天笑的作品手稿。
羅琅書信文件 (Chinese only)
包含羅琅發表及收集的文章、往來信函和稿費通知單。
羅叔重書信文件 (Chinese only; In Process)
包含羅叔重從事文學創作、書畫藝術和相關活動的資料。主要是手跡、信函、拓印、書畫和照片等。
馬博良書信文件 (Chinese only)
包括馬博良的手稿、剪報等。
馬鑑書信文件 (Chinese only)
主要是馬鑑的手稿和信函,亦有馬鑑收集親友的手稿、信函和照片,還有拓片、卷軸書畫和剪報等資料。
馬覺書信文件 (Chinese only; In Process)
主要是馬覺的手稿和剪報資料。
馬臨書信文件 (Chinese only; In Process)
包括馬臨收集的照片、信函和明信片等資料。
馬世侔書信文件 (Chinese only)
主要是友人寫給馬世侔的書信。
邁克手稿 (Chinese only)
包括邁克《互吹不如單打》一書各文章的手稿及專欄剪報。
麥志揚藏土地契約及家族文書 (Chinese only)
包括麥志揚收藏其家族成員所留存的土地契約、書信、印章、鈔票、股票、經營「仁豐號」的相關文件等。
邁克手稿 (Chinese only)
包括邁克《互吹不如單打》一書各文章的手稿及專欄剪報。
莫羅妙馨書信文件 (Chinese only)
包括莫羅妙馨和友儕的手稿、剪報及香港學海書樓的講義、筆記等。
潘廣灝書信文件 (Chinese only; In Process)
包含潘廣灝的手稿和收集的拓本。
潘新安書信文件 (Chinese only; In Process)
包含潘新安及其友儕的詩詞手卷、詩詞冊頁、信札和照片等。
潘小磐書信文件 (Chinese only; In Process)
包括潘小磐的手稿和信函,還有他收集的剪報和他人的手稿等資料。
錢大叔唱片目錄及照片 (Chinese only)
包含錢大叔(錢廣仁)收集的唱片目錄和照片等資料。
錢穆手稿 (Chinese only)
包括錢穆出版著作的手稿。
屈志仁書信文件 (Chinese only)
包含屈志仁的信函、《翁山文鈔》序及目錄手稿、剪報等。
任劍輝﹑白雪仙粵劇及其他資料 (Chinese only)
包括粵劇劇本、仙鳳鳴劇團的劇照、任劍輝和白雪仙的生活照、戲橋、剪報資料、書籍、嘉賓題名錄及題辭冊等。
舒明書信文件 (Chinese only)
主要是古兆申、柳存仁及姚克(姚莘農)寄給李浩昌(舒明)的信函。
司馬長風及夫人書信文件 (Chinese only; In Process)
包含司馬長風的日記和家書(手抄影印本),亦有司馬長風夫人撰寫的文章及相關資料。
佘雪曼書信文件 (Chinese only)
主要是佘雪曼的信函、手稿、卷軸書畫、剪報、聘書等資料。
石人手稿 (Chinese only; In Process)
主要是石人《借情樓詩集》和《香港老照片3》的手稿,以及為報章撰寫專欄文章的手稿。
舒巷城書信文件 (Chinese only)
主要是舒巷城撰寫的詩、詞手稿和信函。
土地契約文書 (Chinese only)
包括魚鱗圖冊、清朝順治至宣統年間的土地契約、中華民國的土地契約和中華人民共和國時期的土地產所有證等。
溫健騮書信文件 (Chinese only)
包括溫健騮的手稿、剪報和編輯《溫健騮卷》的資料等。
吳培榮手稿 (Chinese only; In Process)
包含吳培榮編輯《香港飛躍七十年:華僑日報歷史見證》一書的手稿、改稿和影印本等資料。
吳雅慧書信文件 (Chinese only; In Process)
包含吳雅慧收集關於廣大學院和廣僑學院的信函和相關資料。
西西書信文件 (Chinese only)
主要是西西的手稿、信函、獎座和手工藝等資料。
夏婕書信文件 (Chinese only; In Process)
包括夏婕的手稿和信函,亦有收集的剪報、照片和南極的物件等資料。
香港保衛釣魚台運動資料 (Chinese only)
主要是1970年代香港保釣運動的資料,包括保釣組織的會議記錄、出版物、宣傳品、袖章、照片等。
香港基督教協進會文件 (Chinese only; In Process)
包含香港基督教協進會的文件、信函和照片等資料。
香港軍票訴訟資料 (Chinese only)
主要是香港居民就軍票的損失,向日本政府索償的訴訟文件影印本、剪報及錄音資料等。
香山亞黃漫畫、手稿及其他資料 (Chinese only)
主要是香山亞黃於報社專欄投稿的散文、短文和漫畫稿等。
蕭軍書信文件 (Chinese only)
包含蕭軍手稿《江城詩話》及蕭紅書信兩封。
辛其氏書信文件 (Chinese only)
包括辛其氏〈我們到維園去〉手稿和思果的書法。
許迪鏘書信文件 (Chinese only)
包含許迪鏘從事報刊編輯時所收集的文稿及其他資料。
學海書樓錄音帶 (Chinese only; In Process)
包含學海書樓舉辦講座的錄音帶。
薛覺先粵劇及電影戲橋 (Chinese only)
主要是薛覺先的粵劇及電影戲橋。
薛興國書信文件 (Chinese only)
包含薛興國於香港、北京和北美報刊發表的專欄文章手稿和書信等。
楊鴻書信文件 (Chinese only)
包括楊鴻的信函、文件、剪報及陳伯祺詩稿的影印本等。
楊金安書信文件 (Chinese only)
包括楊金安及其家人的證書、結婚文書、學校文件。
楊舜文手稿 (Chinese only; In Process)
包含楊舜文撰寫和收集的詩詞手稿、詩軸和閱讀筆記等資料。
葉靈鳳書信文件 (Chinese only)
主要是葉靈鳳的手稿、日記和照片等資料。
尹懷文書信文件 (Chinese only)
包括尹懷文在香港各報刊投稿的文章手稿、剪報資料;亦有照片、信函、素描、畫、藏書票和紀念封。
余光中書信文件 (Chinese only)
主要是余光中的手稿、批改學生的讀書報告、評審「華文獎」散文組的參賽作品和紀念獎座等。
雨傘運動資料 (Chinese only)
主要是雨傘運動結束清場時,由不同人士在現場收集留下的物件,亦包括相關的書籍。
越營藝穗(Art in the Camps) (Chinese only; In Process)
包含「越營藝穗」計劃收集的畫作、刺繡和期刊等資料。
曾希穎手稿 (Chinese only)
包含曾希穎的手稿。
翟惠洸書信文件 (Chinese only; In Process)
包含翟惠洸收集的照片、手稿和文件等資料。
翟暖暉書信文件 (Chinese only; In Process)
包含翟暖暉的信函、剪報、文章手稿和照片等資料。
張婉書信文件 (Chinese only; In Process)
包含張婉收集的照片、證書和儲蓄會會單等資料。
張蔭桓書信文件 (Chinese only; In Process)
包含張蔭垣收集的信札。
張詠梅書信文件 (Chinese only; In Process)
包含張詠梅收集的手稿、信函和會議紀錄等資料。
張灼祥書信文件 (Chinese only)
包含張灼祥撰寫報章專欄的手稿及剪報資料。
長洲華商會文件 (Chinese only; In Process)
主要是長洲華商會活動的照片。
周懷璋書信文件 (Chinese only)
包括周懷璋的手稿、信函和照片等資料,還有璞社的《抱璞齋吟侶詩存》。