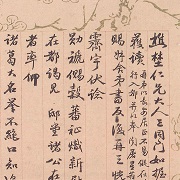 A list of manuscripts, chiefly by literary authors, extracted from the archival collections:
Consists of donated materials chiefly prepared and collected by David Hawkes on Chinese literature and the study of religion. Also covers biographical materials on David Hawkes.
Maurice and Judith Freeman papers
Chiefly consists of materials written and collected by Maurice Freedman and Judith Freedman on Southeast Asian and Jewish studies.
古兆申書信文件 (Chinese only)
包含古兆申從事文藝創作和評論、文學翻譯、期刊編輯和崑劇推廣等工作所撰寫及收集的資料。主要是手稿、剪報資料、信函、照片、漫畫和獎座等。
胡菊人手稿 (Chinese only; In Process)
包含胡菊人的作品手稿。
黎鍵書信文件 (Chinese only)
包含黎鍵從事音樂評論、粵劇推廣、語文教育和校友會等活動所撰寫和收集的資料。主要是報刊文章、信函、未出版書稿等手稿和視聽資料。
李洛霞手稿 (Chinese only; In Process)
主要是李洛霞於《星島日報》發表的專欄文章手稿。
盧昭靈書信文件 (Chinese only)
包含盧昭靈於加拿大從事文學創作、批評和時事評論的手稿和往來信函。
羅琅書信文件 (Chinese only)
包含羅琅發表及收集的文章、往來信函和稿費通知單。
潘正英書信文件 (Chinese only; In Process)
包含潘正英的文章手稿、信函和數碼影碟。
錢穆手稿 (Chinese only)
包括錢穆出版著作的手稿。
舒巷城手稿 (Chinese only; In Process)
包含舒巷城的作品手稿和信函。
吳培榮手稿 (Chinese only; In Process)
包含吳培榮編輯《香港飛躍七十年:華僑 日報歷史見證》一書的手稿、改稿和影印本等資料。
香山亞黃漫畫、手稿及其他資料 (Chinese only)
主要是香山亞黃於報社專欄投稿的散文、短文和漫畫稿等。
薛興國書信文件 (Chinese only)
包含薛興國於香港、北京和北美報刊發表的專欄文章手稿和書信等。
楊舜文手稿 (Chinese only; In Process)
包含楊舜文撰寫和收集的詩詞手稿、詩軸和閱讀筆記等資料。
尹懷文書信文件 (Chinese only)
包括尹懷文在香港各報刊投稿的文章手稿、剪報資料;亦有照片、信函、素描、畫、藏書票和紀念封。
余光中書信文件 (Chinese only)
主要是余光中的手稿、批改學生的讀書報告、評審「華文獎」散文組的參賽作品和紀念獎座等。
張灼祥手稿及剪報資料 (Chinese only; In Process)
包含張灼祥在各香港報章(《信報》、《星島日報》和《蘋果日報》)發表的專欄文章手稿和相關剪報資料。