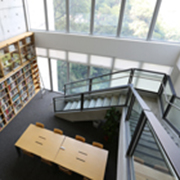 Building Project at the Architecture Library
The Architecture Library was first established in 1994, located on the 6/F of the Wong Foo Yuan Building. It aims at supporting the teaching and research needs of students and faculty of the School of Architecture. In order to facilitate the development of the School of Architecture, the Library moved to its new site at the Lee Shau Kee Architecture Building (formerly AITB, An Integrated Teaching Building) in September 2012.
The Architecture Library is the first CUHK Library equipped with the RFID technology. Self check system and book return chute are provided for users. It is open 24 hours a day, 7 days a week for School of Architecture staff and students.
Contact Us
Tel: (852) 3943 6599
e-mail: arl@lib.cuhk.edu.hk