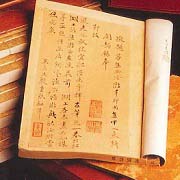 Chinese Rare Book Collection
The collection consists of 1100 classical titles in more than 16,000 volumes in traditional silk-stitched fascicles. The editions range from the Yuan Dynasty (1260-1368) to the end of the Qianlong (1795) of the Qing Dynasty. Notable among the collection are Synthesis of Primary Learning《小學書集成》 of the Yuan Dynasty, Collected Works of Mr. Qinghu《青湖先生文集》 and Sound of Chicks《鷇音集》 of the Ming Dynasty. Two authentic and valuable titles of the Wenlan Ge edition《文瀾閣》of Complete Library of the Four Treasuries《四庫全書》 are Zhong Cheng Ji 《中丞集》 and Shu Ying《書影》 .
A complete list of titles can be located in the Library Catalogue and a published guide to the collection Annotated Bibliography of Chinese Rare Books in the CUHK Libraries《香港中文大學圖書館古籍善本書錄》.
Western Rare Book Collection
The collection mainly contains western language books published before 1900, including such gem as a book written by Sir George Staunton (1798), titled " An Authentic Account of an Embassy from the King of Great Britain to the Emperor of China ", " The Costume of China" by George Henry Mason (1800), " La Chine et les Chinois" by Pierre-Henri-Stanislas D Escayrac de Lauture (1877), " Peking: Histoire et Description " by Alphonse Favier (1897), " Nineveh and its Remains " by Sir Austen Henry Layard (1849), " In Darkest Africa " by Henry M. Stanley (1891), "Ruins of Desert Cathay " by Sir Aurel Stein (1912), " Clavdii Galeni per Gameni Ars Medica, Quae et ars Parva " by Galen (1549), and other rare items.
Chinese Rare Book Digital Collection
The Digital Collection aims to facilitate users to search and browse the bibliographical information and full-text of the Chinese rare and semi-rare books at the Library and to promote resource-sharing. As at April 2013, there are 2,103 volumes of 536 titles with over 320,000 full text images. The number of full text images will continue to grow in order to provide more materials to users.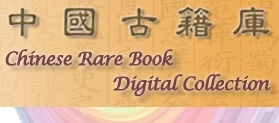 Retrieval Services
Both Chinese and Western rare books are kept in the Rare Book Room, which is located on the 3/F, TKP Building. All the materials in this collection can be searched through the LibrarySearch but are available on request at the Special Collections Reading Room.
Service hours :
Monday – Friday 9:00 am – 5:30 pm
For enquiries, please contact library staff at 3943 8740 or email to spc@lib.cuhk.edu.hk.