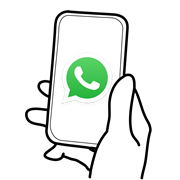 WhatsApp-a-Librarian is an enquiry service that enables you to connect with a librarian at the CUHK Library using one of the most widely used form of communication in Hong Kong.  It aims at providing assistance to users who wish to get quick help in finding information on library services and resources.
Service hours of WhatsApp-a-Librarian
Monday to Friday (except Public holidays) from 9am to 5pm.  Enquiry received beyond the service hours would be answered on the next day.
For urgent assistance, please call 3943 7305 or approach any helpdesks at the Library.
What do I need to use this service?
You need your mobile phone installed with WhatsApp application and connected to WIFI/Mobile network.
When should I use of this service?
All types of questions in text format are welcome, however the service is ideal for simple and quick questions on the go.  Please note that the service does not support voice or video messages.   If you have an in-depth enquiry, you may:
Please read the CUHK's privacy policy before using the Service.