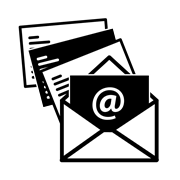 All library notices, including coming due alert, due date alert, hold pickups, recalls, overdues, hold cancellation, borrow and return receipts, are sent to library users via email only.
For CUHK students and CUHK staff: via their email address provided by the CUHK Information Technology Services Centre
For other users: via their email address registered with the Library
A "Circulation Activity Report" will also be sent to user by email on a regular basis. It is a courtesy reminder to remind users of their current loans activity, including any overdue items and/or fines.
Keeping your email address up to date
It is the responsibility of library users to keep their contact information up-to-date with the Library. To ensure receiving important email notices from the Library without delay, you may simply follow the below steps to add/update their email address via My Library Record:
Sign in "My Library Record";
Click "PERSONAL DETAILS";
Click "EDIT";
Enter your preferred e-mail at "My e-mail";
Click "SAVE CHANGES".
Notes:
Users are reminded that library notices are courtesy reminders from the Library.  It is their responsibility to return their borrowed items according to the information listed in their "My Library Record" and to check their emails regularly so as not to miss any library notices.  Failure to receive notices sent by the Library does not remove users' obligation to return material by the due date, nor does it constitute grounds for reducing or waiving fines.