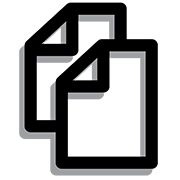 Self-service black-and-white and color photocopiers / MFPs are available throughout all CUHK libraries. Please refer to their locations at the Floor plan.
Users are reminded that anyone making photocopies of copyrighted materials assumes responsibility for questions of copyright that may arise from their use. The newly established Copyright Ordinance (The Laws of Hong Kong, Chapter 528) imposes severe penalties on violators, a copy of which is also available for consultation at the Counter at 1/F.
Caring of Library Materials and Photocopiers when making copies
Avoid excessive pressure on the spines of the books.
Put down the cover of the photocopier before copying: this will lessen the accumulation of carbon that leads to malfunction of the machine.
If the material is thick, do not use the machine with automatic feeder.
Do not use sharp and hard materials, such as pencils, to make selection on the screen.
Photocopying charges for printout are the same as printing from MFPs.