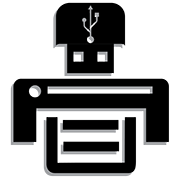 Express printers consisting of a PC and a color MFP enable fast printing from your USB flash drive without any login to the PC. They are available in the Learning Garden and 1/F University Library, Chung Chi College Elisabeth Luce Moore Library, New Asia College Ch'ien Mu Library and Li Ping Medical Library.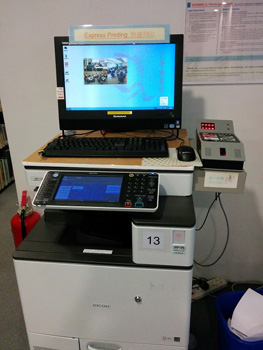 Visitors holding an Octopus Card can access express printers for printing.
To print, please follow the instruction below:
Insert a USB flash drive into an available USB slot on the PC connected to the MFP, the PC does not require login and is not connected to the Internet.
Please wait for the driver installation, once ready, please double-click on the flash drive's drive and open the required file(s).
Select Print function from the application (e.g. MS Word, Adobe Acrobat, etc), After choosing the Black & White or Color printer, assign a User ID and Password for the print job.
Insert the Octopus Card into the Octopus Card Reader.
Press [Printer] button on the panel and select the print job you have just submitted. Follow the on-screen command to print.
Remember to remove the Octopus Card after printing.
The charges for printout are the same as printing from MFPs.